50th Anniversary will be on Sunday, Nov. 6, 2022 at John T. Floores Country Store & Dance Hall in Helotes, Texas. 3-7 p.m.
Admired by fiercely loyal fans, The Drugstore Cowboys have brought their electric energy to venues throughout the US and Europe.
The south side of San Antonio, in the neighborhoods surrounding McCollum and Harlandale high schools, are the childhood homes of many notable people in Country, Funk, Soul and Tejano Music.
Legendary Country Music DJ Hall of Famer and everybody's "Cousin" Jerry King went to Harlandale in the 1960s. I can remember when King, along with other DJs and musicians, played with the likes of Willie Nelson and George Jones at a charity basketball matchup at the McCollum gym in the late 1960s.
During the 1972-73 school year Nashville recording artist Johnny Bush played on stage at the McCollum Auditorium. Country.
Down on Harding Blvd., a talented local newspaper country music and entertainment writer, John Goodspeed, served as an early inspiration for me.
The late Emilio Navaira, from the McCollum Class of 1980, was a Mexican-American musician who performed country and Tejano music nationally. His classmate from the year ahead of him, Yolanda Saldívar, is the convicted murderer of Latin music superstar Selena, and is serving a life sentence in a Texas prison.
Especially in the late 70s and early 80s many of us would go watch Horizon perform. Southsiders Charlie, John, and Geoff Boggess joined classmate Freddy Carrillo and others (T-Bo Gonzalez, Bill Dudley, Larry Scott and Sahara Greer come to mind) and actually opened for the Commodores. The story goes they were offered to go on the road with Cool and the Gang but turned them down.
Through the years, southsider singers and musicians continued to play venues and dances as far away as Europe, on television and especially throughout the Lone Star State.
Some of the more enduring included Rex Allen McNeil, Walter "Tooter" Ripps, Ray Morris, Randy Potts, Lonnie Castleman, John Marsh, Leonard Wong, and the rockers, The Toman Brothers, Randy and Russell—and who could forget R
1972
In the fall of 1972, 17-year-old McCollum senior Dub Robinson had organized a country trio and began playing around a little bit. He went to go see Willie Nelson at the John T. Floore Country Store northwest of San Antonio in the foothills of the Hill Country town of Helotes.
Nelson was to perform as a trio with drummer Paul English and Bee Spears on bass. The steel player didn't show.
"I watched Willie play that gut string guitar and it didn't lose anything," Robinson remembers. Since age 12, Robinson had played professionally across South Texas, but on this night he was particularly inspired.
He called his drummer, Robert "Cotton" Payne, and his bassist, Tommy McKay the next day and proclaimed that if they could be a hundredth as good as Nelson was, they might have a chance.
They knew their taste in music was a blend of country, rock, and blues. McKay suggested the perfect name for their new band. It described the kind of "cowboy" who didn't want to get his boots dirty.
I've followed Dub and other fellow McCollum Cowboys classmates over the years. He continues to be a favorite.
At a ten year class reunion in 1983 at the downtown El Tropicano Hotel Ballroom, Dub and his band honored his classmates as we danced in memories of "old times." I was particularly honored. I knew the band was good, but when I was called over during a break, he asked me what Elvis song I was going to sing later that evening.
I suggested "Blue Suede Shoes," "Hearbreak Hotel," and "Hound Dog."
He grinned, and with guitar in hand, said, "Okay. Let me hear you sing them."
I only had to belt out a sentence or a few words of each. He immediately knew what key and chords to play.
Later, when some of our classmates were literally pulling my pants off while singing, I looked back at Dub. He was grinning big time. He and his band never missed a lick. I tried my best not to also. It remains a fun and wonderful memory in my heart.
In 2011, while interviewing George Strait and Ray Benson at a fundraiser for wounded veterans at Tapatio Springs outside of Boerne, Texas, Strait said something that reminded me of Dub.
"When everyone thinks of Asleep at the Wheel, they think of Ray."
That's exactly how I feel about the Drug Store Cowboys. When I think of them, I think of Dub Robinson.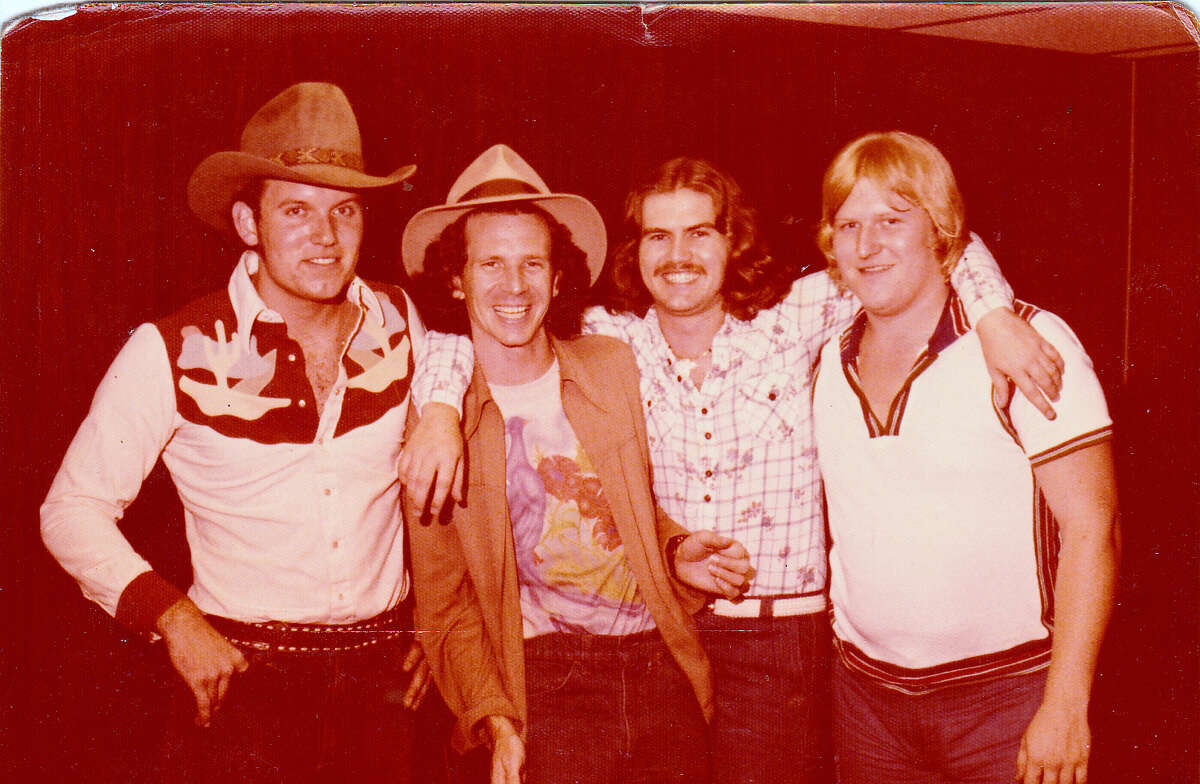 Dub just announced the band will be celebrating their 50th anniversary with a new CD. What are his thoughts?
In his own creative words, the songwriter, musician and singer posted:
Originally, McKay lasted about a year and a half and Randy Toman, (who now performs with his brother Russell), became the bassist for 13 years.
They became the touring band for country stars Gary Stewart and Stoney Edwards. The Drugstore Cowboys also backed Johnny Rodriguez, Freddy Fender, Johnny Bush and Gene Watson.
Other artists they shared the stage with or even backed up include Nelson, Merle Haggard, Mel Tillis, Frenchy Burke, Greg Allman, David Allen Cole, Charlie Daniels, the Mavericks, Jerry Jeff Walker, and even Asleep At The Wheel.
"They joined Stewart, who was known for such hits as "She's Actin' Single (I'm Drinkin' Doubles)," when his backing band could not make a gig at the old Kicker's Palace," Goodspeed once reported. "The owner told Stewart they knew all his songs and he gave them a try. Stewart hired them and they toured coast to coast. Robinson quit after four years."
"I didn't want to be somebody's backup band the rest of my life," he said. "I'm a songwriter first and wanted to do my own thing."
In 50 years, at least that many musicians have played in The Drugstore Cowboys.
Some of the members went on to play for the Bellamy Brothers, Janie Fricke, Bill Anderson, and Judas Priest.
"I believe it's all about the song. It's a lot of work running a band, but I do it just to play my music the way I want to hear it," Dub said.
In God We Trust
Thanks for supporting independent true journalism with a small tip. Dodie & Jack
We are thankful to our incredible sponsors!
Please Support These American Owned Businesses
___________________________
For Information
History, Texas, Pioneers, Genealogy
From award-winning Texas author Cynthia Leal Massey.
_________________________
CLICK: PARK LANE by Rebecca Taylor