Honey Dog Reunited With Owner After Missing Seven Years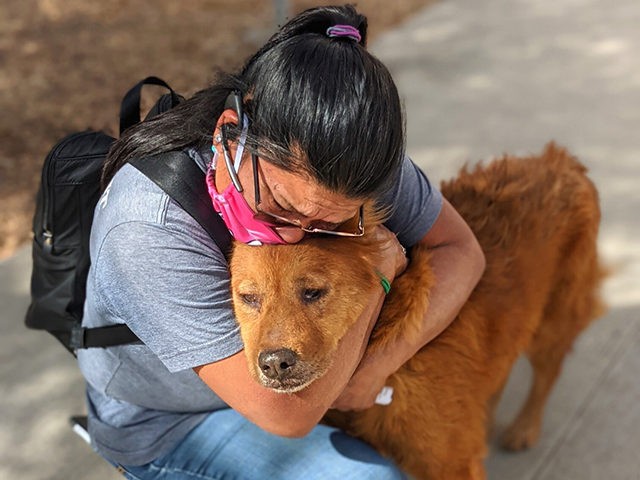 Someone found an older stray dog in San Antonio last week and took it to the local animal shelter.
On Monday, the San Antonio Animal Care Services (ACS) posted on their Facebook page was named "Honey."
ACS staff members scanned Honey for a microchip and discovered he was registered to someone who had adopted him years before.
"We called the owner and let them know Honey would be at the shelter. While he was getting his initial shots upon entering our shelter, our staff got a call that his owner had already made it to ACS to reclaim in our front office," Lisa Norwood, a spokesperson for ACS explained.
"The woman burst into tears as soon as she saw him, fell to her knees, and held him in her arms. She began to ask him if he remembered who she was."
Norwood said Honey immediately responded when the woman spoke his name.
"He did and she started hugging and kissing her dog who returned her affection with a wildly wagging tail."
"An ACS staffer asked her [how] long has Honey been missing — she said 7 years!"
Here are some recent adoptions:
Pet microchipping services were paused during COVID-19 closures, but have resumed by appointment only. San Antonio residents who live within City limits can obtain FREE pet microchips (includes lifetime registration), there will be a $5 service fee per pet for out of city residents. Appointments can be made at: saacs.info/microchip
"Lost pets with a microchip have a significantly higher chance of returning home when brought into a veterinary clinic or shelter," the ACS website states.
All dogs, cats, ferrets residing in San Antonio city limits must have a registered microchip.
Registered microchip must show current ownership information including:

Owner name, address, phone number (if available) and the description of the pet
Microchips do not need to be registered with the City or ACS; microchips only need to be registered with microchip manufacturer.

A current city license (the metal Texas-shaped tag) shall continue to be valid until its expiration.
An annual permit shall be required (in addition to a registered microchip) for pets deemed as aggressive or dangerous
The owner of the pet is responsible for ensuring that the microchip is registered with current information.

Microchips purchased from ACS with be automatically registered to the owner purchasing the chip and comes with free lifetime registration.

If there is a change in pet ownership, the previous and the current owner are both responsible for ensuring the microchip is updated with new owner's information.
Dogs MUST wear a tag with the registered microchip number at all times while outdoors.

Microchips generally come with a tag from the microchip manufacturer with pet's respective microchip number engraved on it. If that tag is lost or misplaced, any tag with the microchip number associated with that pet worn on the pet's collar or harness will be considered in compliance with the law. For example, if a pet's official tag from the microchip company is lost or misplaced, an owner may go to any local pet store to purchase a tag and have it engraved with the pet's microchip number for a low-cost.
All dogs and cats of an owner must have registered microchips prior to the City issuing an excess animal permit.
Exemptions to a registered microchip include:

A non-resident to the City but keeping the pet in the City for fewer than 60 days.
Owner has been a resident of the City fewer than 30 days.
Pet has been abandoned or lost and the temporary owner has had the pet fewer than 30 days.
Medical exemption from licensed veterinarian
For more information on the updated Microchip Ordinance, visit the City's Chapter 5 Animal Laws.
Happiness Lone Star State of Mind Wisdom and Cleverness Dogs Family Good News San Antonio Texas
Raised in San Antonio, Jack Dennis' early experiences were as a newspaper reporter and private investigator. With a Texas State University bachelor's degree, Jack studied journalism, education and psychology. He was the founding vice-president of Sigma Delta Chi, the Association of Professional Journalists at the University. Jack has received numerous awards, including Investigative Reporter of the Year from Rocky Mountain Press Association, David Ashworth Community Award, and Leadership in Management.
Some of the people and groups Jack has interviewed include:
Music
Elvis Presley, Merle Haggard, George Jones, Willie Nelson, B.B. King, George Strait, Roy Orbison, Justin Timberlake, Steven Tyler, Freddie Mercury, Kenny Rogers, Kenny Loggins, Jackson Browne, Steve Wariner, Tanya Tucker, Scotty Moore, Fats Domino, Patty Page, Tommy Roe, Emmy Lou Harris, Johnny Rivers, Charly McClain, Kinky Friedman, John McFee, Guy Allison & Patrick Simmons (Doobie Brothers) , Randy Bachman (BTO), Jim Messina, Todd Rundgren, Alvin Lee, Gary Puckett, The Ventures, Freddy Cannon, Augie Meyer, Christopher Cross, Whiskey Myers, Sha Na Na (John "Bowzer" Baumann), Flash Cadillac, Jerry Scheff, John Wilkinson, Darrell McCall, and more.
Politicians & News
George W. Bush, Bill Clinton, Jimmy Carter, Lady Bird Johnson, Greg Abbott, Rudolph Giuliani, Larry King, Jack Anderson, Tom Bradley, Connie Mack, and more.
Actors
Clint Eastwood, Mike Myers, Taylor Lautner, Cameron Diaz, Jerry Lewis, Eddie Murphy, Antonio Banderas, Julie Andrews, Selena Gomez, Tippi Hedren, James Earl Jones, James Woods, Jim Nabors, Martha Raye, Rosalind Russell, June Lockhart, John Cleese, Eric Idle, Howie Mandel, Meg Ryan, Cheri Oteri, Amy Poehler, Maya Rudolph, James Drury, Melanie Griffith, Nathan Lane, Alan Thicke, Lou Diamond Phillips, Clint Howard, Tony Sirico, Cesar Romero, Michael Berryman, Tracy Scoggins, William Windom, Warren Stevens and more.
Space Explorers
Buzz Aldrin, Alan Bean, Wally Schirra, Dave Scott, Gene Cernan, Walt Cunningham, Scott Carpenter, Gene Kranz (NASA Flight Director), Ed Mitchell, Richard Gordon, Bruce McCandless, Vanentina Treshkova (first woman in space, Russia), Alex Leonov (first man to walk in space, Russian), Al Worden, Dee O'Hara (nurse to astronauts) and more.
Sports: Joe Torre, Roger Staubach, Bob Hayes, Billie Jean King, Manuela Maleeva, Drew Pearson, Bob Lilly, Tim Duncan, David Robinson, George Gervin, Tony Parker, Shannon Miller, Cathy Rigby, Bruce Bowen, Wade Boggs, Fernando Valenzuela, Bernie Kosar, Dale Murphy, Jim Abbott, Dick Bartell, Mike Schmidt, Dan Pastorini and more.
Notables
May Pang, Bob Eubanks, Vernon Presley, Vester Presley, Charlie Hodge, Joe Esposito, Rick Stanley (Elvis' step-brother, Harold Lloyd (Elvis' first cousin), Doyle Brunson, Kara Peller, Hank Meijer, Norman Brinkler, Stanley Marcus, Jerry King, Mac King, Nathan Burton, Zach Anner, Louie Anderson, Owen Benjamin, Steve Byrne and more.
As head of Facilities for a major retailer (H-E-B Food/Drugs) for 20 years, Jack co-founded Professional Retail Store Maintenance Association (PRSM) and was elected President to establish PRSM magazine. Jack is a writer, speaker, golf-concierge and happiness coach. He has researched and studied happiness for over 40 years.
Jack was a prolific writer for Examiner.com, with over 1,900 articles written in six years. His articles and stories have appeared in AXS Entertainment, The ROWDY Country Music, Memphis Flash, and numerous magazines.
He is author of "Miracles of Justice," a true courtroom drama novel about social injustice and miracles.