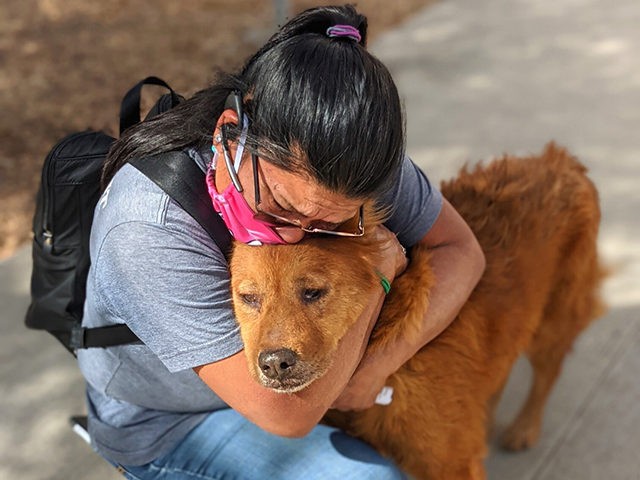 Someone found an older stray dog in San Antonio last week and took it to the local animal shelter.
On Monday, the San Antonio Animal Care Services (ACS) posted on their Facebook page was named "Honey."
ACS staff members scanned Honey for a microchip and discovered he was registered to someone who had adopted him years before.
"We called the owner and let them know Honey would be at the shelter. While he was getting his initial shots upon entering our shelter, our staff got a call that his owner had already made it to ACS to reclaim in our front office," Lisa Norwood, a spokesperson for ACS explained.
"The woman burst into tears as soon as she saw him, fell to her knees, and held him in her arms. She began to ask him if he remembered who she was."
Norwood said Honey immediately responded when the woman spoke his name.
"He did and she started hugging and kissing her dog who returned her affection with a wildly wagging tail."
"An ACS staffer asked her [how] long has Honey been missing — she said 7 years!"
Here are some recent adoptions:
Pet microchipping services were paused during COVID-19 closures, but have resumed by appointment only. San Antonio residents who live within City limits can obtain FREE pet microchips (includes lifetime registration), there will be a $5 service fee per pet for out of city residents. Appointments can be made at: saacs.info/microchip
"Lost pets with a microchip have a significantly higher chance of returning home when brought into a veterinary clinic or shelter," the ACS website states.
All dogs, cats, ferrets residing in San Antonio city limits must have a registered microchip.
Registered microchip must show current ownership information including:

Owner name, address, phone number (if available) and the description of the pet
Microchips do not need to be registered with the City or ACS; microchips only need to be registered with microchip manufacturer.

A current city license (the metal Texas-shaped tag) shall continue to be valid until its expiration.
An annual permit shall be required (in addition to a registered microchip) for pets deemed as aggressive or dangerous
The owner of the pet is responsible for ensuring that the microchip is registered with current information.

Microchips purchased from ACS with be automatically registered to the owner purchasing the chip and comes with free lifetime registration.

If there is a change in pet ownership, the previous and the current owner are both responsible for ensuring the microchip is updated with new owner's information.
Dogs MUST wear a tag with the registered microchip number at all times while outdoors.

Microchips generally come with a tag from the microchip manufacturer with pet's respective microchip number engraved on it. If that tag is lost or misplaced, any tag with the microchip number associated with that pet worn on the pet's collar or harness will be considered in compliance with the law. For example, if a pet's official tag from the microchip company is lost or misplaced, an owner may go to any local pet store to purchase a tag and have it engraved with the pet's microchip number for a low-cost.
All dogs and cats of an owner must have registered microchips prior to the City issuing an excess animal permit.
Exemptions to a registered microchip include:

A non-resident to the City but keeping the pet in the City for fewer than 60 days.
Owner has been a resident of the City fewer than 30 days.
Pet has been abandoned or lost and the temporary owner has had the pet fewer than 30 days.
Medical exemption from licensed veterinarian
For more information on the updated Microchip Ordinance, visit the City's Chapter 5 Animal Laws.