Preparation is key for photographers like Liz Hajek when it comes to nighttime photography.
The south central Texas photographer typically begins her sessions with an understanding of the earth's revolution, the moon cycles and a constellation map in hand.
"And don't forget the outdoor basics — remember to pack some warm clothes," she says. "If you are going alone, tell someone where you are going and when you plan to return and to check the weather forecast."
More Prep Advice
Scout your location
The hours leading up to sunset consist of scoping out unique formations, imagining the moon's rising path and preparing a basecamp.
As the sun descends, the discovery continues. New locations and angles reveal themselves as the evening sky begins its transformative traverse across the landscape.
Know your camera settings
Any DSLR camera will work for shooting night sky photography.
You'll want to shoot with a long shutter speed and a wide aperture, and a tripod is essential for holding a still shot.
Be ready for the darkness
Another component, perhaps the most important, is darkness.
Not just any type of night sky darkness, but the blackest-of-black kind you only find far away from the world's oft-consuming light pollution near Fort Davis Mountains and the McDonald Observatory in west Texas.
New Mexico, Arizona, and Utah also have certified dark sky parks and locations for perfect nighttime photography.
Hajek also enjoys photography in places like Enchanted Rock, near Fredericksburg, Texas or around Taos, New Mexico.
To preserve your night vision, use a red headlamp and turn your camera's LCD display brightness down.
Know the rules
Land management agencies such as the Bureau of Land Management, National Park Service, U.S. Forest Service, tribal lands, as well as state and local agencies all have different rules and regulations.
Be sure to review the restrictions of any dark sky area you plan to photograph.
In some parks, using artificial light sources to light up landscapes, rock formations, or other park features is prohibited.
Even small amounts of stray light can affect wildlife or other visitors in the area.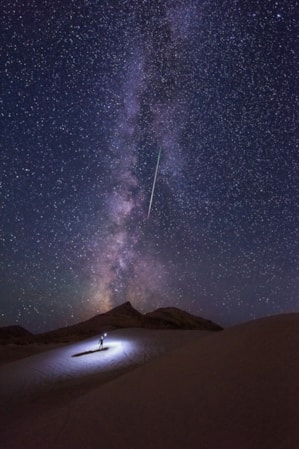 Kodachrome Basin State Park in Utah by Prajit Ravindran
☆☆☆

IN GOD WE TRUST
CLICK: PARK LANE by Rebecca Taylor
For free email notice when we post a new article like this, sign up below.