Back in 2013, Shuanghui Group, the largest pork producer in the world and the largest meat producer in China, dominated headlines when it purchased U.S. pork producer Smithfield Foods Inc. for almost $4.7 billion.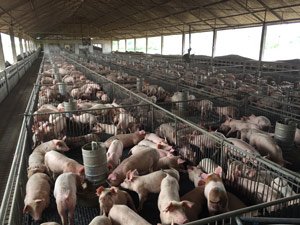 At the time, Chinese companies owned about $1.3 billion worth of American farmlands. In 2022, China now controls over $2 billion in farms and ranches.
Florida Gov. Ron DeSantis has vowed to crack down on "undue influence from rogue states" like China in response to Chinese businesses reportedly buying up large tracts of farmland.
DeSantis said he will sign legislation to limit the extent to which Chinese firms can invest in Florida pension funds.
"We don't necessarily have a lot of it, but we want to make sure that we're cutting ties so that we're not funding our number-one adversary," the Republican governor said.
This month, senators Marco Rubio (R-FL) and Kevin Kramer (R-ND) wrote a letter to the Biden administration demanding that officials review a Chinese company's purchase of North Dakota farmland just several miles from a sensitive military base.
Fufeng Group, a Shandong, China-based company that specializes in flavor enhancers and sugar substitutes, recently purchased 300 acres of farmland near Grand Forks, North Dakota, a rural area that lies about a 90-minute drive from the Canadian border.
The location of the farmland, which is just down the road from a US Air Force base that houses sensitive drone technology, has lawmakers on Capitol Hill worried about potential espionage by Beijing.
Three North Dakotans sold the land to Fufeng Group for $2.6 million, according to CNBC.
TEXAN CHIP ROY
In a letter to his constituents on Monday, Congressman Chip Roy of the 21st District of Texas proclaimed, "Communist China shouldn't have a foothold in our nation."
"Did you know that OVER 35 MILLION ACRES of US farmland — a plot roughly the size of Iowa — are now controlled by foreign investors, including some affiliated with the Chinese Communist Party?"

"It gets worse: right now China is apparently exploiting sister city partnerships in the United States to spy on over 150 American communities and spread Maoist propaganda."

"Last week, I offered two critical amendments to the National Defense Authorization Act to counter Communist China's influence, but Democrats refused to even bring them up for a vote."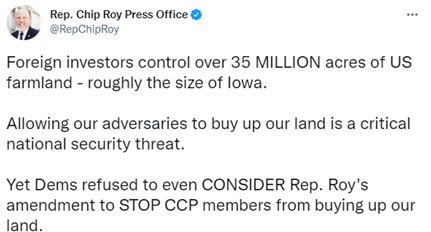 "The CCP is scheming to gain power in America while undermining our national security, and Democrats REFUSE to even look at how much damage China has inflicted. That's unacceptable."
"We need to get serious about our national security and stop playing around as China drives full steam ahead to overtake us and undermine our way of life. That starts with countering the CCP's infiltration here on our own soil."
Should Congress investigate the CCP's purchase of American land?
"I am leading the fight against the CCP in Congress. Last year, I introduced the Securing America's Land from Foreign Interference Act (H.R. 3847) to ban CCP members from buying up land in the United States."
"I have also introduced the Sister City Transparency Act (H.R. 1852) with colleagues in the Senate to investigate whether these partnerships leave America vulnerable to Communist espionage and influence."

"Bottom line: Communist China shouldn't have ANY foothold on our farmland, in our cities, or in the hearts and minds of our citizens. Full stop."
Thanks for supporting independent true journalism with a small tip. Dodie & Jack
We are thankful to our incredible sponsors!
Please Support These American Owned Businesses
___________________________
For Information
History, Texas, Pioneers, Genealogy
From award-winning Texas author Cynthia Leal Massey.