Executed Grandmother in Her Home Prior to the School Attack
8:19 am (CST): A Border Patrol agent said, "Biden should let us and ICE do our jobs." What does this have to do with school attack?
7:46 am (CST) Update:
🔹A Border Patrol agent shot and killed Salvador Ramos after rushing into the school without waiting for backup.
🔹Ramos posted photos on social media of two guns he bought on his 18th birthday used in the shooting. Police were also examining statements he may have made online leading up to the attack.
🔹Sgt. Erick Estrada, of the Texas Department of Public Safety, indicates that the killer exited the car and engaged a police officer working at the school. The officer was unable to stop the shooter, who entered the building and shot more than 20 people.
Uvalde School Shooting
Salvador Ramos, 18, a high school student in Uvalde, Texas walked into a local elementary school right after 11:30 Tuesday morning and began shooting students and adults with a handgun and possibly a rifle.
By the time law enforcement responded, at least 17 students, two adults were killed and others were injured.
🔹Ramos, who lived close to the school located in the southwest part of the town of 25,000, had "shot his grandmother execution style multiple times in her home" just before he drove to the school, a local source told CleverJourneys. "It is still being investigated so I can't provide details."
🔹"He was driving his dark colored pickup erratically and crashed or wound up stuck in a ditch," said another local source, who asked not to be identified. "He was close to the school and went in there shooting."
🔹"There are rumors that some of the high school seniors were going to be at the school today to talk with and encourage the students," a second resident said. "We are not sure if it's just speculation, but all the schools, businesses like H-E-B and Wal-Mart also closed. There is a high presence of various types of law enforcement all over."
"Even this late (6:40 pm CST) some families aren't sure about their children," he continued. "This is heart wrenching because we are assuming if they don't know their status this late, it is likely bad news."
🔹Robb Elementary School teaches second, third and fourth grade for 530+ students in Uvalde, which is located 85 miles west of San Antonio.
🔹Pete Arredondo, Uvalde Consolidated Independent School District chief of police said the gunman acted alone in the "mass casualty event" after abandoning his car nearby.
🔹Ramos was killed by gunfire from a Border Patrol agent.
"Texans across the state are grieving for the victims of this senseless crime and for the community of Uvalde," said Texas Gov. Greg Abbott. "Cecilia and I mourn this horrific loss and we urge all Texans to come together to show our unwavering support to all who are suffering. We thank the courageous first responders who worked to finally secure Robb Elementary School."
Gov. Abbott noted that two law enforcement officers were hit by bullets, but didn't have serious injuries.
Uvalde Memorial Hospital told CleverJourneys they had received 13 children and a 40 year old man from ambulances, buses and cars. Two people arrived at the hospital dead.
At least three patients were transferred to San Antonio University Health Hospital for trauma treatment. A 66-year-old woman and a 10-year-old girl were in critical condition at 5 pm.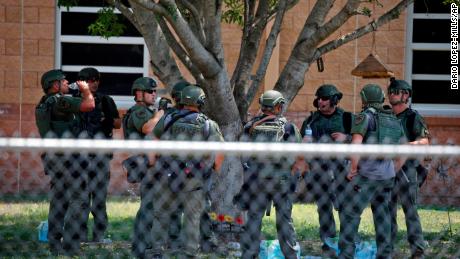 Law enforcement personnel stand outside Robb Elementary School following the shooting.
US Customs and Border Protection assisted with the response, with one CBP agent shot in the head. His injuries are non-life-threatening.
🔹Since Joe Biden has been the resident of the White House, over 50 shootings have occurred in American Schools. The Uvalde shooting marks the 31st shooting at a K-12 school just in 2022.
🔹Not counting Tuesday's shooting, in 2022, there have been at least 39 shootings in K-12 schools, colleges and universities, resulting in at least 10 deaths and 51 injuries.
🔹About 90% of students in Uvalde are Hispanic and about 81% are economically disadvantaged, according to state statistics.
🔹Thursday was set to be the last day of school before the summer break.
🔹The school district said it is canceling all school activities following the shooting.
🔹The FBI and the Bureau of Alcohol, Tobacco, Firearms and Explosives (ATF) are assisting local police with the investigation.
We are thankful to our incredible sponsors!
Please Support These American Owned Businesses
___________________________
___________________________