Las Vegas, Nevada casinos statewide are riding a tourism surge and seeing monthly winnings records. This has caused hotel room rates to rebound with visitors now approaching pre-pandemic levels.
In 2020, at the peak of pandemic and lockdowns, we didn't stay home. Instead, we went on a summer roadtrip that covered 15 states from Texas to Washington D.C. and back. This included stops in crowded tourist spots like Graceland in Memphis, Pigeon Forge, Gatlinburg, Andy Griffith Museum in North Carolina, Ark Encounter in Kentucky, and Branson, Missouri.
This year, we are currently on our second roadtrip of 2021 out West visiting Las Vegas and Laughlin, Nevada. In May, we traveled to the Royal Gorge and Garden of the Gods in Colorado, Carlsbad Caverns and International UFO Museum in New Mexico.
On our current trip, we've enjoyed a day at the Southwest Sonaran Outdoor Desert Museum near Tucson, Phoenix and are in Las Vegas as I write this. (Note: Old Tucson Movie Studios is closed. Pima County is trying to decide what to do with it.)
If you are interested in getting away from home, TV, news propaganda and mandates, consider doing what thousands of Americans are doing: Travel.
Those planning to visit Las Vegas should check the Nevada Health Response for updates on state and county requirement changes. We didn't bother because we are not that concerned about restrictions and enjoy being free spirits. Visitors could check directly with resorts, attractions and other experiences for full details around operations. We had few problems.
In Vegas, these are our general thoughts after being here four days:
Dining
We found some of our favorite restaurants closed, so we sought out opportunities to discover new ones. In the LINQs Promenade area you can take a trip to Flavortown at Guy Fieri's Vegas Kitchen & Bar. The celebrity chef brings you his big, bold flavors and tasty twists on comfort food. It's a good place to bring your appetite. They have everything from a Tatted-Up Turkey Burger to Jack Daniels steak to a giant, over-the-top cheesecake dessert. There is also a good view of the Vegas Strip from their 6,500 square-foot outdoor patio.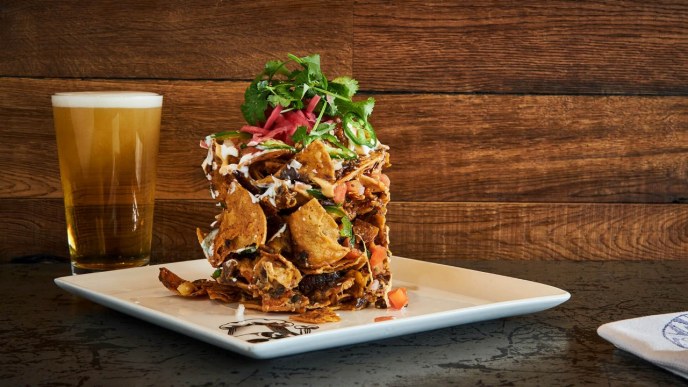 TRASH TALK
One of Fieri's signatures is his Trash Can Nachos. It's as over-the-top as the Food Network personality who created it. The nachos are literally presented in a mini trash can and feature a tower of corn tortilla chips, house-smoked pork, cheese, black beans, jalapenos, sour cream, pickled onions, cilantro, pico de gallo and chipotle barbecue sauce.
Nearby is Hot Diggity Dog.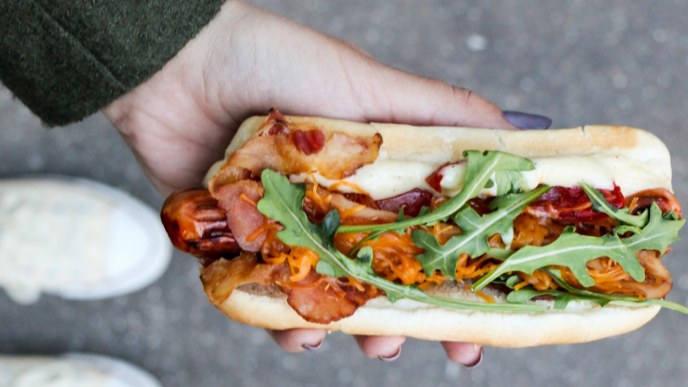 HOT DIGGITY DOG
One of the favorites is The Gold Standard, featuring smoked bacon, cheddar cheese, tomato confit, baby arugula and garlic-chive aioli. Another is the Billionaire Dog, complete with a Kobe beef frank, foie gras torchon, port onion marmalade and truffle mayo.
At New York-New York Hotel, we found all restaurants opened. We elected to go to one of my favorites, America. They've never let me down. It's not overly noisy like some eateries can be in Vegas.
My biggest disappointment was the gutting of the House of Blues restaurant at Mandalay Bay. They totally destroyed the peaceful blues vibed –with tree– bayou scenery and replaced it with a large and loud, concrete and steel, industrial manufacturing plant type eatery. No acoustics and wide open to the ambient noise of the slot machinery, it will be the last time I will ever eat there. We heard other diners complaining about it too.
We noticed Rice, our favorite restaurant at the Luxor next door, is closed down. Eventually we noticed many higher end establishments (including steak houses, seafood, sushi, Italian and more) have shuttered their doors at Westgate, Bally's, Paris, Flamingo, Harrah's, Venetian, Excalibur and Luxor too.
(During our visit, hundreds of Culinary union workers in red shirts marched in protest on the Strip about their pay, working conditions and vaccine mandates.)
Like gasoline, about 3.55 a gallon now, the costs for buffet meals have increased since I was here a couple of years ago. They tend to be in the $23-$45 range weekdays and $29-59 on weekends.
🔹At the back, left hand corner of the Luxor casino, is a reasonably priced (at Vegas standards) quick to order grill called Backstage Deli. We had breakfast and coffee at $26 total, with tip, for two.
🔹At Hard Rock Cafe, just north of MGM resort on the Strip, Dodie had the "most delicious steak salad ever," for $20. I enjoyed their Smokehouse Combo (Ribs and pulled pork, fries, coleslaw and baked beans for $27).
🔹Our most expensive splurge was fourth row seats for Dodie's first ever Cirque du Solevil show, "O" at Bellagio. Note: The Conservatory there is a must see free attraction. It changes with the seasons and holidays.
🔹Instead of taking a Lyft, Uber, or cab to the different venues, we bought a Monorail pass at $13 for 24 hours. It was long enough for us to enjoy most of the east side of the Strip from MGM south to Westgate, north. We also deboarded at Bally's to walk across Las Vegas Blvd. to Bellagio where "O" plays.
🔹My favorite daytime (afternoon entertainment) is The Mac King Comedy Magic Show, now at Excalibur.
🔹The most fun we had for the best bargain was the Ultimate 4-D Experience at Excalibur.
For $14 a person, we enjoyed 15 minute versions of two action packed films of Wonder Woman and San Andreas with 3-D glasses, moving seats and special effects (water mists, bubbles, lighting enhancements and other special effects).
___________________________
Please Support These Patriotic American Owned Businesses
___________________________
___________________________