US congressman Thomas Massie (R-KY) has revealed a real fact that a COVID-19 vaccination "fact-checking" project conducted by a Facebook-partnered website was actually funded by a group that holds $1.8 billion in Johnson & Johnson stock.
Downplayed or conveniently omitted by mainstream media, this official Facebook partner, Fact check.org is a fraudulent tool to censor critical voices on social media.
From 2011 to 2020, there were just 994 deaths reported to CDC's Vaccine Adverse Event Reporting System (VAERS) after ALL vaccinations. In 2021, there have been over 4,400 reported deaths and approaching 20,000 serious injuries from COVID-19 jabs.
One San Antonio attorney told me he has been approached by a local family who had a member seriously harmed by her second COVID-19 vaccine shot. He's talking with other attorneys to consider filing a class-action lawsuit for harm and even deaths to other families.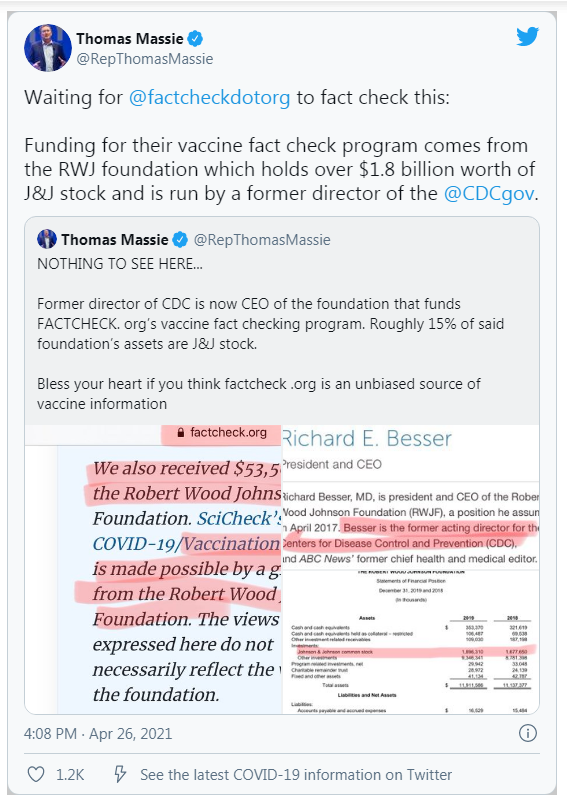 Under the guise of being independent checkers, FactCheck.org is funded by the same $1.8 billion vaccine lobby group that it is supposedly independently checking. They are instrumental in having people canceled on Facebook.
"In any other regulated field, FactCheck.org is considered as criminal organization deliberately pushing vaccines and is instrumental in shutting down any opposition."
According to their own source, Factcheck.org is funded in part by the Robert Wood Johnson Foundation. According to the foundation's 2019 financial statement, the project holds over $1.8 billion of stock in the COVID-19 manufacturer, Johnson & Johnson.
Their CEO is Richard Besser, the former acting director of the CDC under Barack Obama and ABC News' former chief health and medical editor.
"This criminal organization under TRICO statutes is headed by a former CDC director, which is once again a conflict of interest. He is being paid by the drug lobby indirectly. Facebook partnered COVID fact-checker is an outrageous fraud. FactCheck.org was funded by the same $1.9 billion vaccine lobby."
Racketeer Influenced and Corrupt Organizations Act (RICO)
The Racketeer Influenced and Corrupt Organizations Act (RICO) is a federal law designed to combat organized crime in the United States. It allows prosecution and civil penalties for racketeering activity performed as part of an ongoing criminal enterprise.
Such activity may include illegal gambling, bribery, kidnapping, murder, money laundering, counterfeiting, embezzlement, drug trafficking, slavery, and a host of other questionable business practices that FactCheck.ORG may fall under.
To convict a defendant under RICO, the government must prove that the defendant engaged in two or more instances of racketeering activity and that the defendant directly invested in, maintained an interest in, or participated in a criminal enterprise affecting interstate or foreign commerce.
The law has been used to prosecute members of the mafia, the Hells Angels motorcycle gang, and Operation Rescue, an anti-abortion group, among many others.