Chisholm Trail: South of San Antonio to Kansas
After the Civil War, millions of cattle running wild in Texas were worth only $2 or less per head, but worth $15 to $25 per head in Kansas. The money from the sale of cattle was responsible for bringing Texas out of the economic depression caused by the war.

From the start of the trail drives in 1867 to 1871, millions of longhorns were taken to the Kansas Railhead. It is estimated that 10 million longhorns went up the Chisholm Trail and the Western Trail before new rail lines to Texas made the long trail drives no longer necessary.

The typical herd going up the trail included approximately 2,500 cattle, 10 to 12 cowboys, a remuda of extra horses, and a chuck wagon for food and gear.
The cattle taken along the Chisholm Trail came from south Texas toward San Antonio. A large ditch, just west of modern day Commercial Avenue, was dug in concert with nearby creeks feeding into the San Antonio River. The ditch and creeks were used to keep cattle contained and watered.
Today this is known as Six Mile Creek.
By 1889, railroads were making their way into more southern routes through Texas and 34 acres just southwest of downtown San Antonio became the site of the Stockyards.
J.W. Kothmann, went into the cattle business in 1893 and became the stockyard's first tenant. The first cattle sold by Kothmann's new company came from H.B. Zachry's ranch in Webb County.
____________________________
Note: When the San Antonio Union Stockyards closed down after 112 years–due to urban sprawl and changing times–it was in August 2011 that a final tribute occurred.
The last cattle auctioned were brought to sale by the Kothmann company for the U-Bar Ranch, which was owned by H.B. Zachry Co.
---
From San Antonio, cattle were herded straight north past Belton, Waco, Fort Worth and crossed the Red River.
Many of the trail drives came through downtown Fort Worth along what is referred to today as Commerce Street before bedding down the cattle north of downtown. The drover (cowboy) would purchase supplies in Fort Worth before heading on.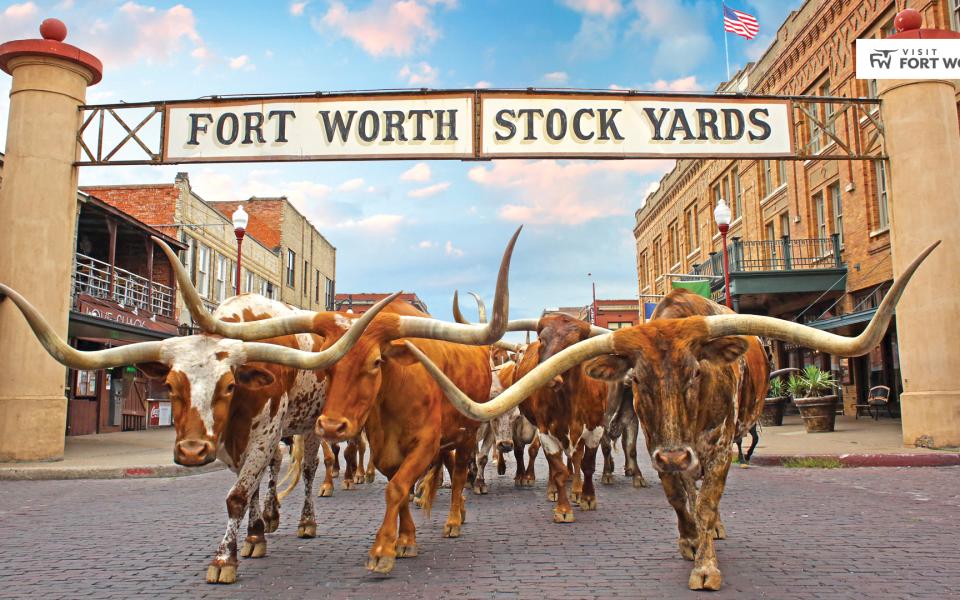 Sixteen longhorns and six drovers walk in the Fort Worth Herd cattle drive that can be seen daily in the Stockyards.

Jesse Chisholm (1805 – 1868) was an important trader and plainsman of Scots and Cherokee background. He was fluent in 14 Native American languages and played an important role in many treaties between tribes and the American government. The cattle drives were adapted from his trading routes hence where the name comes from.
Joseph McCoy (1837 – 1915), was a cattle trader and largely responsible for creating the Chisholm Trail. He conceived the idea for a railroad extension to Abilene, Kansas, where he then developed cattle pens needed to house the cattle on rail cars. He then promoted the appropriate route for cattle drovers to take.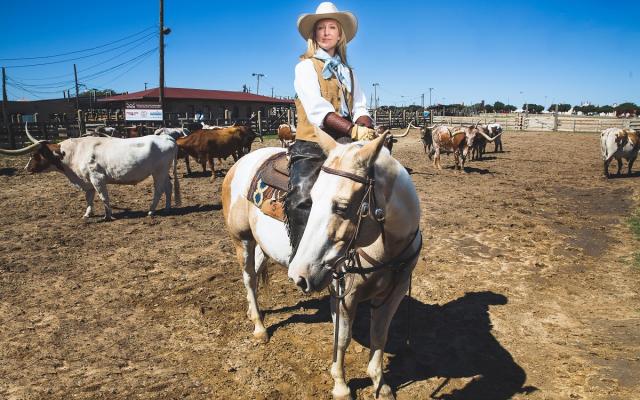 According to the Texas Historical Commission, the Chisholm Trail had various other names, including the McCoy Trail, the Great Texas Trail, the Cattle Trail, the Eastern Trail, and the Kansas Trail.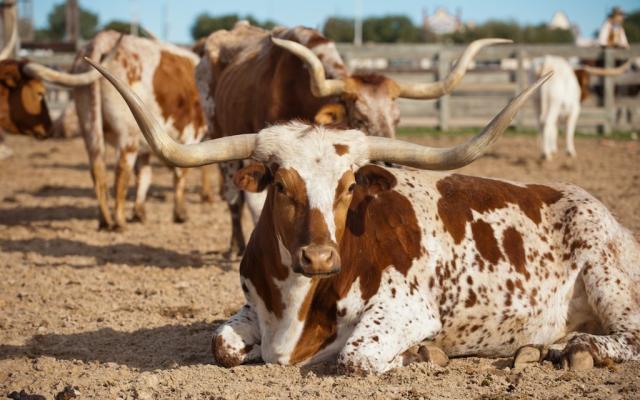 Some people assert that the Chisholm Trail was not in Texas and that it instead began in Oklahoma. However, according to the Texas Historical Commission, in common usage, the name Chisholm Trail was applied to extensions of the original Jesse Chisholm Trail covering the length of Texas. The major books on the Chisholm Trail by Wayne Gard and Don Worcester as well as the federal legislation directing the study of the Chisholm Trail and Western Trail also take this view.

_________________________________
Click Here For Top 10 Most Popular Articles of CleverJourneys.
---
________________________________
LET'S TEXAS
America History Lone Star State of Mind Civil War. Ft. Worth Hill Country History Horses Kansas Oklahoma Old West San Antonio Texas Waco
Raised in San Antonio, Jack Dennis' early experiences were as a newspaper reporter and private investigator. With a Texas State University bachelor's degree, Jack studied journalism, education and psychology. He was the founding vice-president of Sigma Delta Chi, the Association of Professional Journalists at the University. Jack has received numerous awards, including Investigative Reporter of the Year from Rocky Mountain Press Association, David Ashworth Community Award, and Leadership in Management.
Some of the people and groups Jack has interviewed include:
Music
Elvis Presley, Merle Haggard, George Jones, Willie Nelson, B.B. King, George Strait, Roy Orbison, Justin Timberlake, Steven Tyler, Freddie Mercury, Kenny Rogers, Kenny Loggins, Jackson Browne, Steve Wariner, Tanya Tucker, Scotty Moore, Fats Domino, Patty Page, Tommy Roe, Emmy Lou Harris, Johnny Rivers, Charly McClain, Kinky Friedman, John McFee, Guy Allison & Patrick Simmons (Doobie Brothers) , Randy Bachman (BTO), Jim Messina, Todd Rundgren, Alvin Lee, Gary Puckett, The Ventures, Freddy Cannon, Augie Meyer, Christopher Cross, Whiskey Myers, Sha Na Na (John "Bowzer" Baumann), Flash Cadillac, Jerry Scheff, John Wilkinson, Darrell McCall, and more.
Politicians & News
George W. Bush, Bill Clinton, Jimmy Carter, Lady Bird Johnson, Greg Abbott, Rudolph Giuliani, Larry King, Jack Anderson, Tom Bradley, Connie Mack, and more.
Actors
Clint Eastwood, Mike Myers, Taylor Lautner, Cameron Diaz, Jerry Lewis, Eddie Murphy, Antonio Banderas, Julie Andrews, Selena Gomez, Tippi Hedren, James Earl Jones, James Woods, Jim Nabors, Martha Raye, Rosalind Russell, June Lockhart, John Cleese, Eric Idle, Howie Mandel, Meg Ryan, Cheri Oteri, Amy Poehler, Maya Rudolph, James Drury, Melanie Griffith, Nathan Lane, Alan Thicke, Lou Diamond Phillips, Clint Howard, Tony Sirico, Cesar Romero, Michael Berryman, Tracy Scoggins, William Windom, Warren Stevens and more.
Space Explorers
Buzz Aldrin, Alan Bean, Wally Schirra, Dave Scott, Gene Cernan, Walt Cunningham, Scott Carpenter, Gene Kranz (NASA Flight Director), Ed Mitchell, Richard Gordon, Bruce McCandless, Vanentina Treshkova (first woman in space, Russia), Alex Leonov (first man to walk in space, Russian), Al Worden, Dee O'Hara (nurse to astronauts) and more.
Sports: Joe Torre, Roger Staubach, Bob Hayes, Billie Jean King, Manuela Maleeva, Drew Pearson, Bob Lilly, Tim Duncan, David Robinson, George Gervin, Tony Parker, Shannon Miller, Cathy Rigby, Bruce Bowen, Wade Boggs, Fernando Valenzuela, Bernie Kosar, Dale Murphy, Jim Abbott, Dick Bartell, Mike Schmidt, Dan Pastorini and more.
Notables
May Pang, Bob Eubanks, Vernon Presley, Vester Presley, Charlie Hodge, Joe Esposito, Rick Stanley (Elvis' step-brother, Harold Lloyd (Elvis' first cousin), Doyle Brunson, Kara Peller, Hank Meijer, Norman Brinkler, Stanley Marcus, Jerry King, Mac King, Nathan Burton, Zach Anner, Louie Anderson, Owen Benjamin, Steve Byrne and more.
As head of Facilities for a major retailer (H-E-B Food/Drugs) for 20 years, Jack co-founded Professional Retail Store Maintenance Association (PRSM) and was elected President to establish PRSM magazine. Jack is a writer, speaker, golf-concierge and happiness coach. He has researched and studied happiness for over 40 years.
Jack was a prolific writer for Examiner.com, with over 1,900 articles written in six years. His articles and stories have appeared in AXS Entertainment, The ROWDY Country Music, Memphis Flash, and numerous magazines.
He is author of "Miracles of Justice," a true courtroom drama novel about social injustice and miracles.