As far as I can remember, H-E-B Food-Drugs, a San Antonio based company in Texas has consistently been a strong proponent and practitioner for the environment. I retired from this outstanding retailer in 2009 as head of their Facilities Management Division and saw first hand how they are regularly recognized for its commitment to environmental sustainability.
🔹In 2021, H-E-B recycled more than 636 million pounds of cardboard, plastics, office paper, food waste, metal, and truck tires.
🔹Among its endeavor to minimize waste in 2021, H-E-B recycled 54 million pounds of food into animal feed and compost and recycled 17.5 million pounds of plastic.
🔹That same year, H-E-B's recycling efforts saved the equivalent of 11 million trees, 1.6 million barrels of oil, and enough energy to power more than 83,000 homes for an entire year.
As part of H-E-B's Our Texas, Our Future mission, and with support from Field & Future by H-E-B brand products, the retailer is partnering with Texas Parks and Wildlife Foundation and their efforts to conserve wildlife, habitats, and natural resources in Texas.
H-E-B is a longtime partner of the Texas Parks and Wildlife Foundation, and the company's commitment to environmental sustainability along with Field & Future by H-E-B will support efforts such as:
🔹coastal conservation along the Texas Gulf Coast,
🔹Black Bear restoration in West Texas,
🔹the establishment of Palo Pinto Mountains State Park in North Texas, the state's newest state park expected to open in 2023.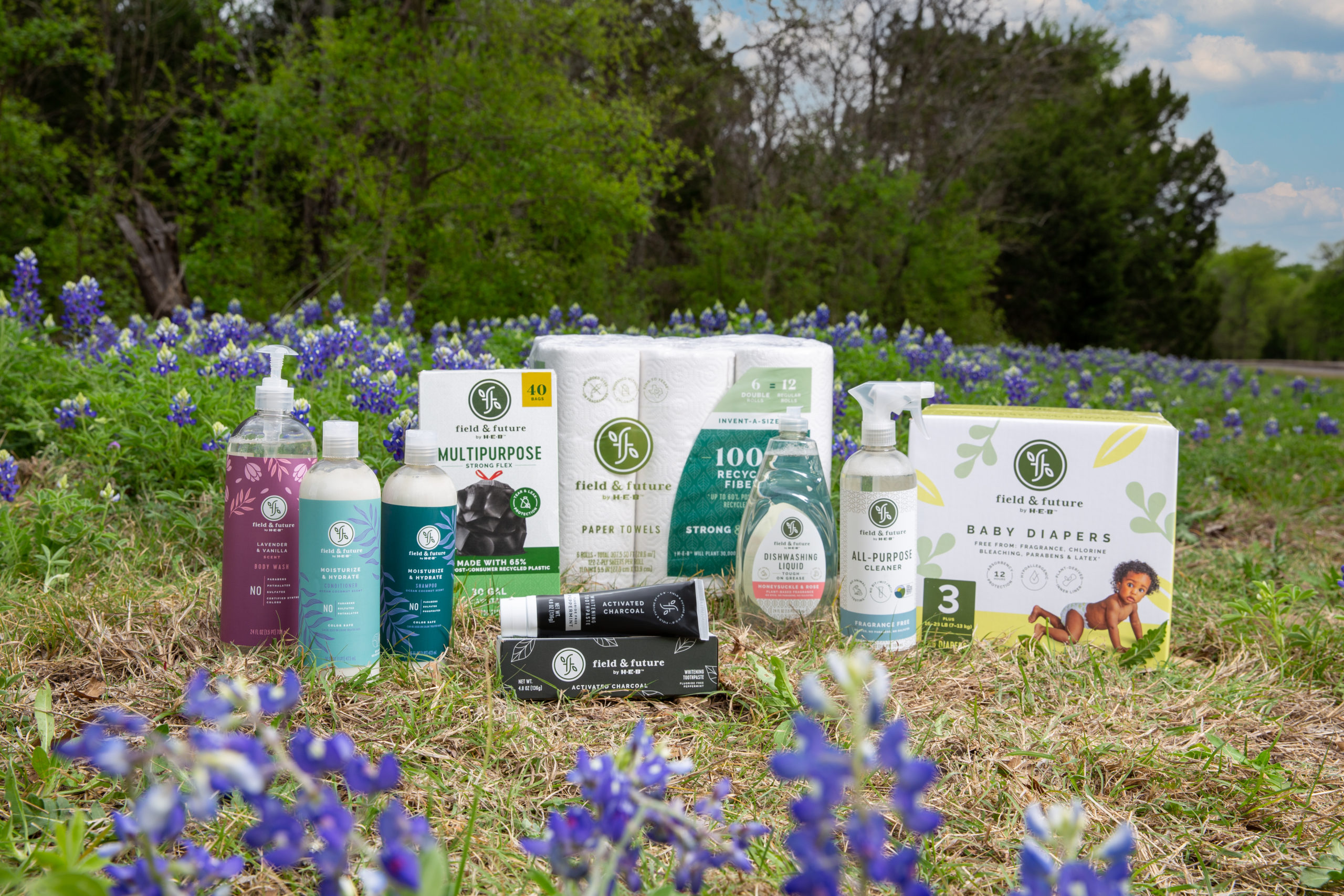 Field & Future by H-E-B, which the company launched last year, is an environmentally minded brand of household, personal care and baby products designed to be clean and green.
The brand is made with recycled or recyclable content, biodegradable formulas or plant-based ingredients, and without over 165 harsh chemicals. Currently, there are nearly 100 Field & Future by H-E-B products on shelf, including dish soap, body wash, bath tissue, baby diapers, as well as trash bags and bags for recyclables, which are made from up to 65 percent and 30 percent post-consumer recycled plastic from H-E-B facilities, respectively.
"H-E-B is an iconic Texas company, and this new partnership with the Texas Parks and Wildlife Foundation, our official non-profit partner, is incredibly exciting," said Texas Parks and & Wildlife Department Executive Director Carter Smith. "It's fitting that the Field & Future line of products will benefit conservation projects across Texas, and we're deeply grateful for this new partnership."
With Earth Day around the corner, H-E-B Partners (employees) across the state are committed to taking their own steps to beautify Texas. Leading up to and following Earth Day, Partners will volunteer at outdoor events, tree plantings and community cleanups. Many H-E-B stores across the state also will host in-store events to celebrate Earth Day with their customers and communities.
Throughout the year, H-E-B works to champion sustainability initiatives throughout its own operations and across the Lone Star State.
In 2021, H-E-B became part of How2Recycle, a program that places clear, easy-to-read labels on products to let customers know if the packaging can be recycled, which parts are recyclable, and importantly, how to prepare material for recycling to reduce contamination.
The How2Recycle labels are already on more than 1,700 H-E-B branded items, which include H-E-B, Hill Country Fare, H-E-B Select Ingredients, H-E-B Organics, and Central Market.
Furthering its commitment to supporting sustainable efforts within the community, H-E-B gifted $135,000 to support the creation of a community recycling center in Ingleside. Slated to open in the summer, this will be the city's first ever recycling center, which will service several communities near the Gulf Coast town.
"We know H-E-B and our customers have a shared commitment in protecting the land, water and air of Texas for generations to come," said Winell Herron, H-E-B Group Vice President of Public Affairs, Diversity and Environmental Affairs. "As H-E-B works to reduce our packaging footprint and increase packaging recyclability, we also look for ways to support community access to recycling. We're excited to partner with Keep Texas Beautiful and the City of Ingleside to make recycling available for the first time for 65,000 Texans."
H-E-B customers also can support sustainability efforts through its annual donation campaign that benefits EarthShare of Texas, a nonprofit that supports more than 70 respected conservation groups. From April 13 through May 24, customers can donate $1, $3 or $5 online at heb.com or in store at checkout, which will benefit the nonprofit organization. From the donation campaign, more than $1 million has gone to support the nonprofit.
Since 2012, H-E-B has contributed more than $20 million to over 500 environmental organizations in land and water conservation, habitat and coastal preservation, and community cleanups. This includes giving more than $2 million in grants to organizations such as Keep Texas Beautiful, Texas Conservation Fund, and the Nature Conservancy in Texas.
---
___________________________
___________________________