Even before the pandemic in 2020 Christianity was on the rise in America.
"The Trump presidency brought more believers into our churches," one Texas Hill Country pastor noted recently. "But when people were prohibited by a government with nefarious motives, it backfired on the politicans."
A new nationwide poll supports that observation, revealing Christianity grew during President Donald J. Trump's term and continued after churches were shuttered.
The new Pew Research poll shows that 16% of White Americans who did not identify as evangelical in 2016 but expressed a warm view of Trump, now identify themselves as evangelical.
In general, 25% of White Americans identified themselves as born-again or evangelical Protestants in 2016. By the end of 2020, 29% of them described themselves as such.
"When I was young, there was a song out that became kind of an anthem to young America," the pastor smiled. "They played it all over the radio. It was by Joni Mitchell and in the lyrics she sang 'Don't it always seem to go that you don't know what you got 'til it's gone.' It was powerful and succinctly demonstrates what is on many of our minds and emotions today."
They took all the trees
Put 'em in a tree museum
Then they charged the people
A dollar and a half just to see 'em
Don't it always seem to go
That you don't know what you've got 'til it's gone?
They paved paradise
Put up a parking lot
"Socialist left-wing politicans, with the help of the media, are determined to shutter the doors on our churches and fundamental rights " he said. "But that's not what happened. We began to live stream our services and preaching and brought more people to the Lord."
"We preached outside, in smaller groups, in large events and on television or computers or cellphones," he continued. "Sure, we missed being in the church, but we adapted. By the way, we are noticing more people physically coming back to church as they figure all this out. So now we have the best of both: in church and remote broadcast or streaming."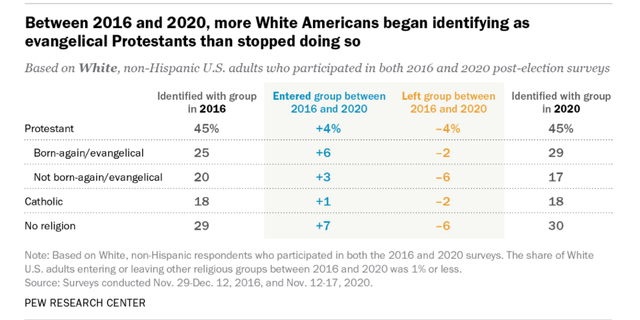 Pew Research Center chart showing White Americans embracing the evangelical label between 2016 and 2020 (Pew Research Center)
Sixty percent of evangelical voters voted for Trump in 2016 and in 2020, 18% more of them voted for Trump in 2020.
When Fox News asked Franklin Graham, president of the Billy Graham Evangelistic Association and the global charity Samaritan's Purse, what this means for the media narrative that Trump's presidency weakened evangelical Christianity, he responded, "I don't think the numbers support it, do they?"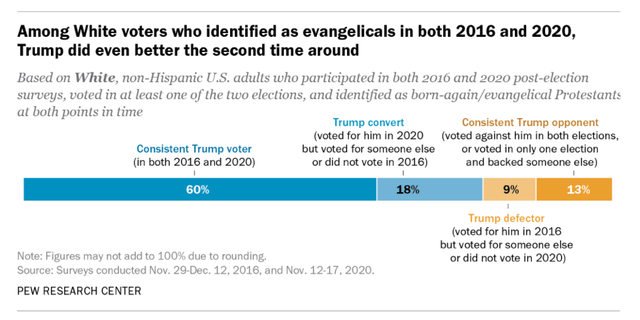 Pew Research Center showing how many self-described evangelical Protestants voted for Trump in 2016 and 2020 (Pew Research Center)
Graham said President Trump fulfilled his promises to protect Christians, especially in the case of Andrew Brunson, an American pastor imprisoned in Turkey who was freed after Trump imposed sanctions on the regime.
Graham hailed Trump as a champion of religious freedom for people of all faith, including Jews, Hindus and Muslims.
Graham said he has "seen Democrats and Republicans in the past give lip service to people of faith, but they really don't want people of faith around them. Trump welcomed people of faith," he said.
Graham called Trump "a great encouragement," a "president who is willing to fight for our side.""Even though things look hopeless right now in some areas, I haven't lost hope. My hope is in God, it's not in Washington, it's in God," he said.
Al Mohler, president of the Southern Baptist Theological Seminary, said the Pew poll shows the strength of evangelical Christianity, beyond politics.
"Evangelical Christianity remains a central and vital force in America precisely because it defines Christians who believe the gospel of Jesus Christ and eagerly affirm the authority of the Bible as the Word of God," Al Mohler, president of the Southern Baptist Theological Seminary, said. "This latest Pew report points to the continued strength of evangelicalism and the fact that even more Americans define themselves as evangelicals."
"Cries of evangelical decline are fed by the theological Left and by liberal academics and media sources who are singing the same song they have sung since the 1970s," he told Fox News. "They hope that by saying evangelicals are in decline that they can make it so," he insisted.
"The most important issue here is the fact that Jesus saves sinners — and that is the great good news that defines evangelicals," Mohler added. "My great concern is to encourage evangelicals to be even more evangelical — committed to the Gospel of Jesus Christ. There is no life in liberal theology and, despite the great hope of the Left, there is no resurgence of liberal Christianity."
___________________________
Please Support These American Owned Businesses
___________________________
___________________________