This Great Northern beans soup recipe is inspired by the original Disney Soundstage Restaurant in Florida. This eatery was one of the original restaurants from Opening Day of the Disney-MGM park and seated 560 people.
It was themed as a wrap party for the 1988 film "Big Business" and was decorated with movie sets from the Bette Midler and Lily Tomlin film.
Guests would enter the restaurant through the back of a set, leading to the film's hotel lobby location. Cast Members at the restaurant wore catering costumes.
The restaurant was later themed to animated films such as "Beauty and the Beast", "Aladdin" "The Hunchback of Notre Dame", "Hercules", "Mulan" and "Pocahontas.
The camels that had appeared in Aladdin's Royal Caravan parade stood out front before they were later relocated to the Magic Carpets of Aladdin attraction at the Magic Kingdom.
During this time period, there were character breakfasts each morning and a buffet the rest of the day.
Guests would hear songs from animated films as they were eating and visiting with the characters. The restaurant closed on November 14, 1998 and the building was later used for the Bear in the Big Blue House and Playhouse Disney/Disney Junior stage shows.
The first version of the Soundstage Restaurant was a food court with lines for pizza, sandwiches, soup (including one called Soundstage Great Northern Bean Soup), salads and dessert. This soup is full of vegetables in addition to the beans and some smoked ham. Healthy and satisfying.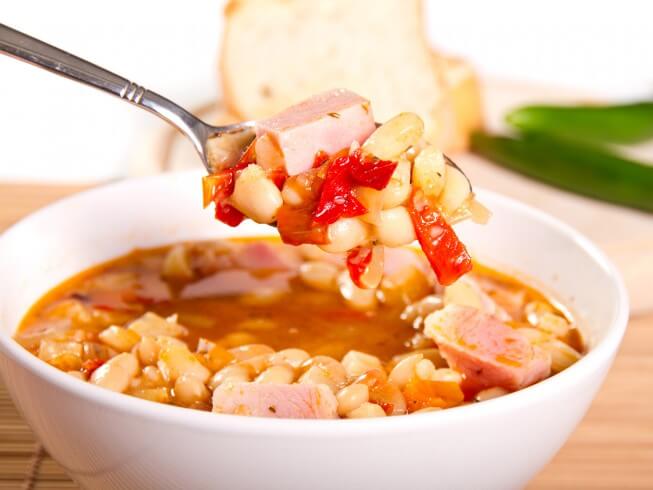 It takes about 1-2 hrs to prepare, but it's worth it.
Ingredients
1/2 pound dried great northern beans
10 cups water
4 chicken bouillon cubes
3/4 cup celery, minced
1 cup onion, minced
1 cup carrot, minced
1 cup smoked ham, minced
3/4 cup tomato, minced
1/4 teaspoon salt
1/4 teaspoon white pepper
1/4 teaspoon ground thyme
1/4 cup cornstarch dissolved in
2/3 cup water
Directions
Soak beans, in enough water to cover, overnight. Drain; rinse and place in large soup pot with 10 cups fresh water and bouillon cubes. Bring to boil; reduce heat to simmer. Cook 1 hr until tender but firm on the inside.

Add celery, onions, and carrots; cook 30 minutes until vegetables are tender. Add ham, tomato, salt, pepper, and thyme; mix well. Cook 10 minutes. Add cornstarch and water; simmer 5-10 minutes until mixture thickens. Remove from heat, cool 10-15 minutes. Mix well and serve.

In addition, a lightly toasted bread – such as fresh baked French – is a delicious accompaniment to the amazingly tasty Great Northern Bean soup.

Recipe Source: Soundstage Restaurant, Disney-MGM