Recorded Deaths After Getting COVID Vaccine Jabs Are Soaring
The key word is "recorded."
The rate of deaths following the experimental COVID "vaccines" continued to soar as the CDC adds more data each Friday into the Vaccine Adverse Event Reporting System (VAERS).
This U.S. Government funded database tracks injuries and deaths caused by vaccines–but only records information submitted on a voluntary basis.
The current data released by the CDC was for March 19, 2021. Last Friday the least amount of post "vaccination" events reached 44,606. This includes 2,050 deaths after being injected with the EXPERIMENTAL "vaccines" for COVID.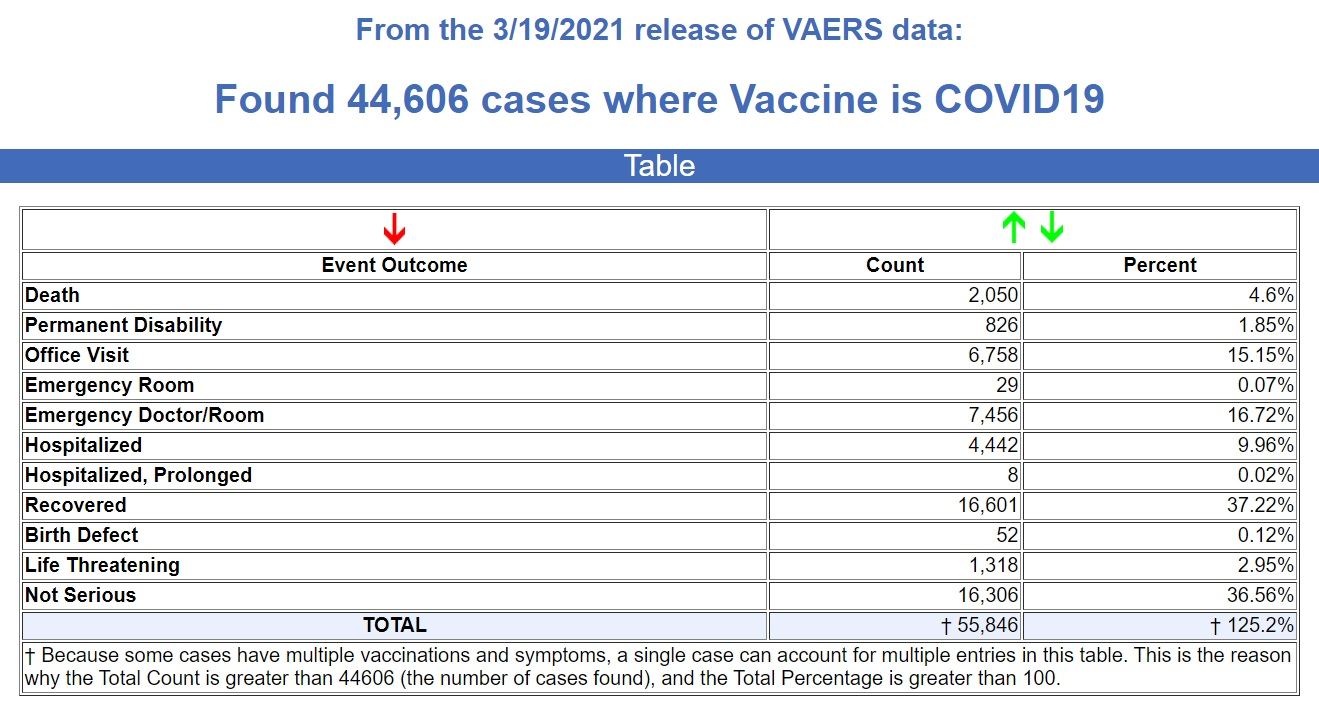 In addition to the voluntarily submitted recorded 2,050 deaths, there were 7,485 visits to Emergency Room doctors, 826 permanent disabilities, and 4450 hospitalizations.
Within one month of the Johnson and Johnson Janssen COVID vaccine being approved for EXPERIMENTAL use in America, there have already been 1,107 voluntarily submitted adverse events including 16 deaths reported following its use. This is the third experimental COVID vaccine to be granted emergency use authorization (EUA) by the FDA.
Two things to be aware of:
1. Some of these death reports state that the patients exhibited signs of symptomatic COVID or reported symptoms similar to COVID.
2. VAERS, by the nature of it being ONLY VOLUNTARY submitted cases, historically reflects a small fraction (1% to 10%) of the actual cases occurring. The truth could be far more than being RECORDED.
Here are a few VAERS cases from last week's records. Note: the first one shown occurred in January, but just recorded last week–2 months later.
VAERS ID: 1103106 – Patient died on 01/24/2021. Began exhibiting symptoms similar to Covid 1 day after vaccination.

VAERS ID: 1111699 – Patient developed symptomatic COVID infection with symptoms starting 3/13, was admitted to the hospital for respiratory failure on 3/16 and expired on 3/18/21

VAERS ID: 1102815 – Patient presented to hospital on 3/11 with shortness of breath… History of chronic oxygen dependency at night. Became more sob over last several days and was not able to make it to md appointment. Had a recent abnormFamily states she was febrile at home. Was low on oxygen level on 2LNC, placed on non-rebreather and then BIPAP. Positive for Rhinovirus. Chest xray showed bilateral lower infiltrates. Patient detiorated through the night and was intubated and placed on vasopressors for septic shock. Patient was made DNR and family refused hemodialysis. Family then made decision to withdraw care.
VAERS ID: 1112122 – Patient was admitted for Multi drug resistant UTI. Was hospitalized for 3 days while awaiting cultures, hemodynamically stable, with no lab abnormalities. On the day of discharge (sensitivities to UTI came back, pt to be discharged on cefepime, had PICC line) pt got up from bed, sat on the edge of the bed and was being given belongings by the nurse, alert and oriented and in a pleasant mood, when suddenly pt grabbed at his chest and stated "I can't breathe" and became combative and altered when O2 was attempted to be placed on pt's face; then pt had PEA arrest x3 and unable to achieve ROSC.
Three of the deaths recorded after the Janssen experimental COVID injection were reported to be due to sudden cardiac arrest.
VAERS ID: 1098028 – Cardiac arrest, death approx 12 hours later.

VAERS ID: 1103748 – Cardiac Arrest/Death

VAERS ID: 1110099 – 3/12/21 Sudden cardiac arrest at home; unable to be resuscitated at scene (Brother) Caller is a family friend who was asked by family to call and report incident. If f/u is needed, please contact him first.
Health and Wellness News Legit Politics Alerts Health News Nursing Pandemic Politics
Raised in San Antonio, Jack Dennis' early experiences were as a newspaper reporter and private investigator. With a Texas State University bachelor's degree, Jack studied journalism, education and psychology. He was the founding vice-president of Sigma Delta Chi, the Association of Professional Journalists at the University. Jack has received numerous awards, including Investigative Reporter of the Year from Rocky Mountain Press Association, David Ashworth Community Award, and Leadership in Management.
Some of the people and groups Jack has interviewed include:
Music
Elvis Presley, Merle Haggard, George Jones, Willie Nelson, B.B. King, George Strait, Roy Orbison, Justin Timberlake, Steven Tyler, Freddie Mercury, Kenny Rogers, Kenny Loggins, Jackson Browne, Steve Wariner, Tanya Tucker, Scotty Moore, Fats Domino, Patty Page, Tommy Roe, Emmy Lou Harris, Johnny Rivers, Charly McClain, Kinky Friedman, John McFee, Guy Allison & Patrick Simmons (Doobie Brothers) , Randy Bachman (BTO), Jim Messina, Todd Rundgren, Alvin Lee, Gary Puckett, The Ventures, Freddy Cannon, Augie Meyer, Christopher Cross, Whiskey Myers, Sha Na Na (John "Bowzer" Baumann), Flash Cadillac, Jerry Scheff, John Wilkinson, Darrell McCall, and more.
Politicians & News
George W. Bush, Bill Clinton, Jimmy Carter, Lady Bird Johnson, Greg Abbott, Rudolph Giuliani, Larry King, Jack Anderson, Tom Bradley, Connie Mack, and more.
Actors
Clint Eastwood, Mike Myers, Taylor Lautner, Cameron Diaz, Jerry Lewis, Eddie Murphy, Antonio Banderas, Julie Andrews, Selena Gomez, Tippi Hedren, James Earl Jones, James Woods, Jim Nabors, Martha Raye, Rosalind Russell, June Lockhart, John Cleese, Eric Idle, Howie Mandel, Meg Ryan, Cheri Oteri, Amy Poehler, Maya Rudolph, James Drury, Melanie Griffith, Nathan Lane, Alan Thicke, Lou Diamond Phillips, Clint Howard, Tony Sirico, Cesar Romero, Michael Berryman, Tracy Scoggins, William Windom, Warren Stevens and more.
Space Explorers
Buzz Aldrin, Alan Bean, Wally Schirra, Dave Scott, Gene Cernan, Walt Cunningham, Scott Carpenter, Gene Kranz (NASA Flight Director), Ed Mitchell, Richard Gordon, Bruce McCandless, Vanentina Treshkova (first woman in space, Russia), Alex Leonov (first man to walk in space, Russian), Al Worden, Dee O'Hara (nurse to astronauts) and more.
Sports: Joe Torre, Roger Staubach, Bob Hayes, Billie Jean King, Manuela Maleeva, Drew Pearson, Bob Lilly, Tim Duncan, David Robinson, George Gervin, Tony Parker, Shannon Miller, Cathy Rigby, Bruce Bowen, Wade Boggs, Fernando Valenzuela, Bernie Kosar, Dale Murphy, Jim Abbott, Dick Bartell, Mike Schmidt, Dan Pastorini and more.
Notables
May Pang, Bob Eubanks, Vernon Presley, Vester Presley, Charlie Hodge, Joe Esposito, Rick Stanley (Elvis' step-brother, Harold Lloyd (Elvis' first cousin), Doyle Brunson, Kara Peller, Hank Meijer, Norman Brinkler, Stanley Marcus, Jerry King, Mac King, Nathan Burton, Zach Anner, Louie Anderson, Owen Benjamin, Steve Byrne and more.
As head of Facilities for a major retailer (H-E-B Food/Drugs) for 20 years, Jack co-founded Professional Retail Store Maintenance Association (PRSM) and was elected President to establish PRSM magazine. Jack is a writer, speaker, golf-concierge and happiness coach. He has researched and studied happiness for over 40 years.
Jack was a prolific writer for Examiner.com, with over 1,900 articles written in six years. His articles and stories have appeared in AXS Entertainment, The ROWDY Country Music, Memphis Flash, and numerous magazines.
He is author of "Miracles of Justice," a true courtroom drama novel about social injustice and miracles.