A trip to San Antonio, the "Alamo City" isn't just about the destination. The true beauty of this region can be found in the journey through and around it. Rolling hills, natural springs, meandering rivers and, come springtime, the beauty includes vibrantly painted landscapes of wildflowers up and down the highways and backroads.
As you head northwest west toward Boerne, Kerrville and Fredericksburg, you'll begin to see the landscape open up before you, with rolling tree-covered hills, exposed limestone cliffs and an array of colorful wildflowers.
In this area, known as the Hill Country, you'll also find Johnson City, home to the Lyndon B. Johnson National Historical Park. Here you can tour the family ranch and view artifacts such as his boyhood home and first school. This is also the final resting place of LBJ, our 36th president.
Johnson City is also the heart of the Hill Country wine region. Why not take a detour and sample some of the best wineries in Texas on the 290 Wine Trail? Ab Astris Winery and Kuhlman Cellars are a couple of our favorites.
In the quaint town of Fredericksburg, you'll want to visit two unique museums: the National Museum of the Pacific War, dedicated to those who served in the Pacific Theater of World War II, and the Pioneer Museum, honoring the lives of the early German settlers of this region.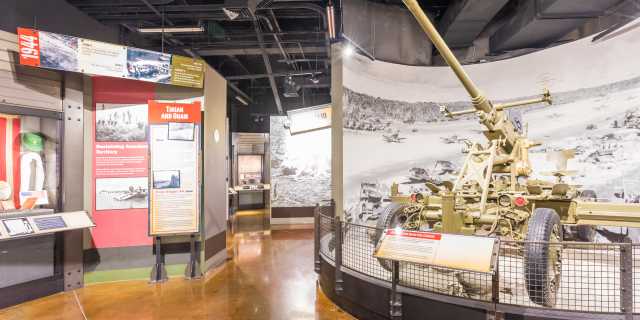 Heading back south toward San Antonio, a worthwhile scenic route offers serene Hill Country views through wildflower-lined back roads.
Look for Luckenbach. It's a stretch to call it a town, but for country music fans, it's a mecca. It was made famous in the '70s by outlaw country musicians like Willie Nelson and Waylon Jennings. You can still regularly catch country acts performing on the outdoor stage.
Continue on the backroads south around Canyon Lake on your way toward New Braunfels. Just outside the city, stop at Texas' oldest continually operating dance hall, Gruene Hall.
Families will love a stop at Schlitterbahn Waterpark, but check their schedule online as they're open seasonally. Families will also love exploring the vast caves at Natural Bridge Caverns and the exotic animals at Natural Bridge Wildlife Ranch about 20 minutes west of New Braunfels.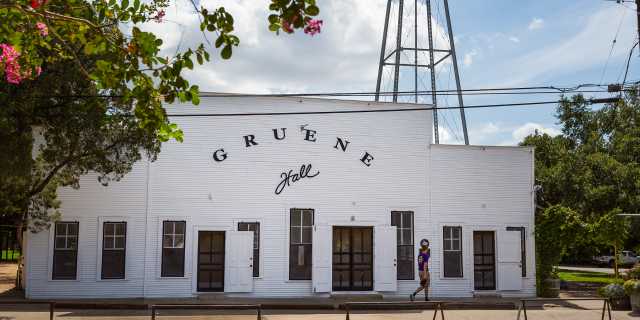 Back in San Antonio. The Alamo is the Spanish mission made famous as a battle site in the war for Texas independence. But it is just one of five historic Spanish missions in San Antonio that make up a UNESCO World Heritage Site. The other four comprise the San Antonio Missions National Historical Park. All five offer an incredible look back at the history and culture that still influence this proud city.
Just 10 minutes north of downtown, you will find the revitalized historic Pearl district. This area used to be the home of the Pearl Brewery. Today, you can walk the Pearl to explore trendy shops, delicious dining and even a weekend farmers market. Nearby is Brackenridge Park, Witte Muesum, Children's DoSeum, Japanese Tea Garden and San Antonio Zoo.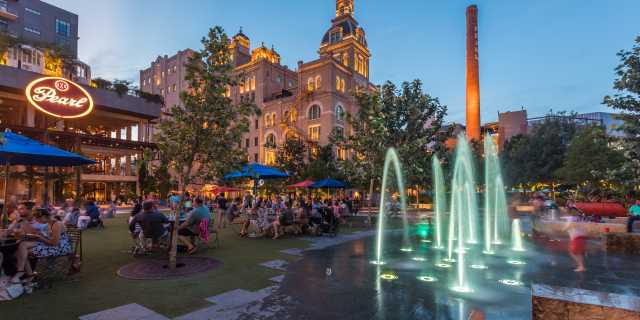 Dating back to 1919 – and receiving major updates throughout the years – the Japanese Tea Garden features a lush year-round garden and a floral display with shaded walkways, stone bridges, a 60-foot waterfall and ponds filled with Koi. The garden's entrance is punctuated by a moon gate created by a Mexican artist renowned for crafting wood-look concrete sculptures. Free admission.
When mean it when we say the River Walk is a must to experience. One of the nations'—most famous attractions is the vibrant River Walk. Restaurants and shops line the banks of the San Antonio River, which you can explore on foot or take a boat tour on one of the colorful river barges.
Sightseeing, shopping, food, and fun. All on this world-renowned 15-mile urban waterway. The River Walk, or Paseo del Rio, is a San Antonio treasure and the largest urban ecosystem in the nation.
Tucked quietly below street level and only steps away from the Alamo, it provides a serene and pleasant way to navigate the city. Explore by foot along the river's walking path or jump aboard a river barge for a ride and guided tour. In the heart of downtown, explore nearby attractions like the Alamo, the King William Historic District and more. Or, shop local favorites along the river's Museum Reach at the historic Pearl.
A good way to see downtown is by catching a ride with City Sightseeing San Antonio's double-decker buses for tours and curbside drop-off to many of thw downtown attractions and landmarks.
If you missed the rodeo and February, be sure to end the night at Tejas Rodeo Company, where they hold live rodeos every Saturday night from March – November. You can also eat like a Texan at Tejas Steakhouse & Saloon and enjoy fun, and entertainment for all.
If you are staying downtown, don't miss Mi Tierra Café and Panaderia is the perfect place for a traditional Tex-Mex breakfast, with everything from huevos rancheros to breakfast tacos. Schilo's has been serving German-Texan fare since 1917 and is the oldest restaurant in San Antonio. You can't go wrong when you order the Pioneer pancakes or biscuits. In the mood for some schnitzel and homemade root beer? Check Schilo's out for lunch.
From this are you can take a walk through La Villita Historic Arts Village, San Antonio's first neighborhood. Today La Villita is a cultural hub, home to local artisans, shops and restaurants. Walk down the river to the Briscoe Western Art Museum for stories of the cowboy, the vaquero, Native Americans and the western landscape.
San Antonio also features theme park giants- Six Flags Fiesta Texas and SeaWorld & Aquatica San Antonio.
Please Support These American Owned Businesses
___________________________
___________________________